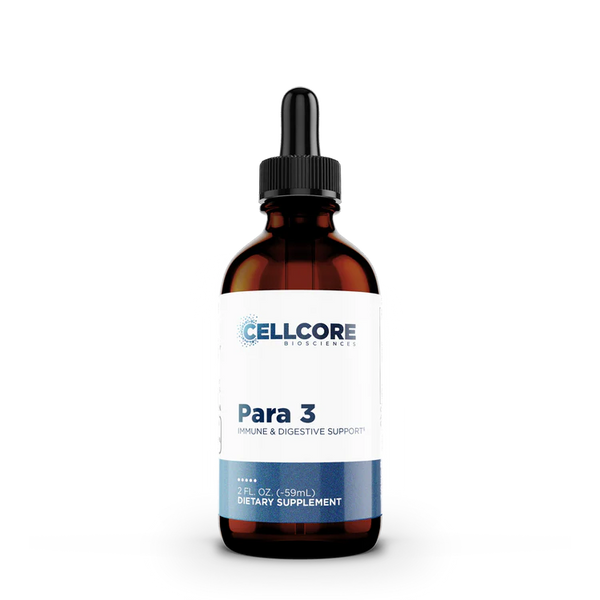 Para 3 product overview: 
A blend of seven herbs — including clove, black walnut hull, and holy basil — works together to support the body's natural detoxification processes and gut microbiome.* As one of our most potent detoxification support supplements, Para 3's liquid tincture format allows the ingredients to be absorbed more rapidly and gives patients complete control over dosing to match their comfort levels
Note:  Because of its potency, Para 3 should be cycled and taken for three weeks on, one week off. The other Para products do not need to be cycled like this.
Para 3 is safe to take at any point in time outside of other protocols. Your healthcare practitioner may recommend taking it at different stages, based on your unique needs.
Directions:
Shake before each use - Dilute 5-10 drops in about 8 Oz's of water 3 times daily before meals.  If well tolerated increase to 25 drops 3 times daily, cycle 3 weeks on and one week off. Repeat as needed or as otherwise directed by a health care practitioner: 
FAQ's
Does Para 3 have to be taken with food?
Para 3 can be taken with or without food. For maximum potency, we recommend taking it between meals.
Does Para 3 interact with other prescription medication? 
Always consult a licensed healthcare practitioner when introducing a new supplement to your routine. As a general guideline, it's recommended to take all supplements at least two hours away from prescription medications.
How's Para 3 different from Para 1, Para 2 and Para 4? 
Para 1 is Cellcores flagship digestive and immune support product.* It's a single-ingredient supplement that contains 100% pure Mimosa pudica seed. Once Mimosa Pudica Seed gets digested, it turns jelly-like and sticky, which allows it to promote the removal of occasional intestinal buildup.*
Para 2 is a multi-herb supplement formulated with clove, neem, triphala, vidanga, and other key ingredients to support overall digestion, immunity, and the health of the gut microbiome.* Para 2 works hand in hand with Para 1 to give the body the extra push it needs to support its detoxification processes.*
Para 3 is a liquid tincture with seven herbs, including black walnut hulls, epazote, tansy, holy basil, and clove bud, to support detoxification and immunity.* As a highly concentrated tincture, it's recommended to take Para 3 after you've already worked your way through the first two steps of the protocol. This will promote healthy functioning drainage pathways, and will help minimize unwanted reactions or symptoms.*
Para 4 is a blend of 11 herbs that offer immune and detoxification support, including cordyceps and celery seed.* It's formulated with sensitive individuals in mind and eliminates black walnut hulls (a common intolerance in detox and immune supplements).
*These statements have not been evaluated by the Food and Drug Administration nor health canada. This product is not intended to diagnose, treat, cure, or prevent any disease.