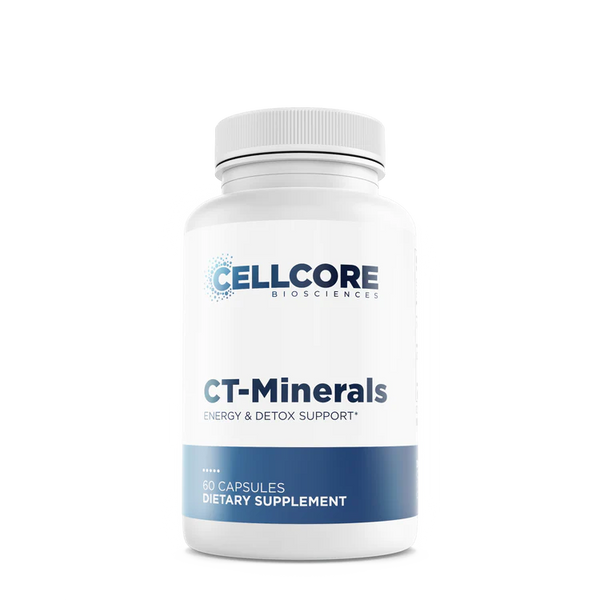 Now in a more potent capsule form, CT-Minerals are a convenient way to help support your body's daily micronutrient needs for optimal cognitive function, energy production, immune function, mental clarity, nervous system support – and to enhance your overall feeling of well-being.*
Clinical Reference sheet

Each capsule provides minerals derived from fulvic acid, which is sourced from the soil and decomposed plant life. Fulvic acids naturally contain trace minerals and are typically easier for the body to digest, absorb, and utilize.*

In addition to their trace mineral content, fulvic acids help nourish the gut microbiome, support gut function, and may help assist nutrient absorption from other foods and supplements.* They also have chelating properties, which encourages the body's natural ability to detoxify.*

The CT-Minerals capsules have the same fulvic acid formula as the previous liquid supplement, but now include magnesium to enhance the mineral content. Magnesium is one of the most needed minerals in the body and is depleted by daily stress.*
CT-Minerals includes two highly bioavailable and easily absorbed forms of magnesium: Magnesium malate and magnesium acetyl taurate. The powdered minerals equivalent in the NEW CT-Minerals capsules contains more than twice the amount of minerals in one ten-drop dose of the liquid formula. Therefore, only one dose is needed daily by comparison.
Formulated with Carbon Technology

Carbon Technology is a proprietary blend of fulvic and humic acids that support cellular repair and the body's natural ability to detoxify.*

With a low pH, Carbon Technology also helps protect ingredients from being digested by stomach acid, so that they remain intact as they enter the desired location in the body.
FAQ's
Does  CT-Minerals have to be taken with or without food? 
CT-Minerals can be taken with or without food. For maximum potency, we recommend taking it between meals.
Does CT-Minerals interact with other medication?
Always consult a licensed healthcare practitioner when introducing a new supplement to your routine. As a general guideline, it's recommended to take all supplements at least two hours away from prescription medications.
Which minerals are included in CT-Minerals?
A variety of naturally occurring trace minerals derived from fulvic acid, magnesium malate, and magnesium acetyl taurate.
What time of the day should I take CT-Minerals?
CT-Minerals supports energy production, so it's best taken earlier in the day to avoid interfering with sleep patterns.
These statements have not been evaluated by the Food and Drug Administration. This product is not intended to diagnose, treat, cure, or prevent any disease.