Bowel Mover "Supporting Proper Bowel Function"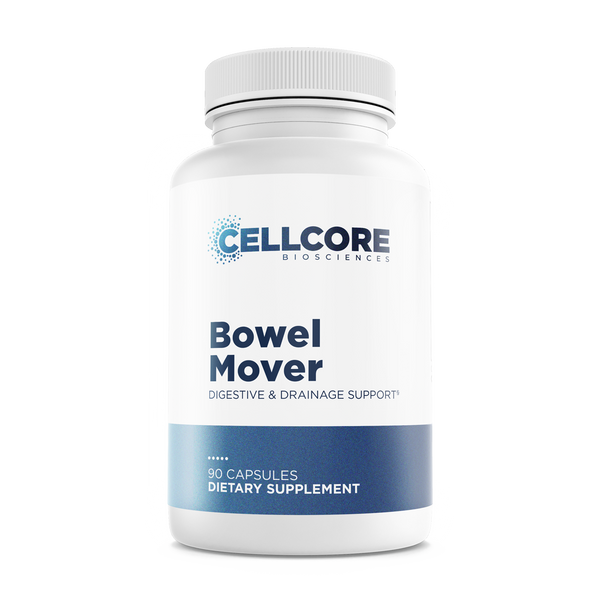 Bowel Mover "Supporting Proper Bowel Function"
The result of more than ten years of development and clinical utilization. This is the perfect blend of ingredients in the proper ratio designed to provide non-habit-forming, safe, effective digestive support. Bowel Mover is specifically designed to help promote digestive and detox support while executing its primary function of supporting proper bowel function. This product is beneficial for those that struggle with constipation by providing natural, gentle bowel relief.
Product Overview:
This powerful formula is the result of ten years of development and additional years of clinical utilization. This is the perfect blend of ingredients in the proper ratio designed to provide non habit-forming, safe, effective digestive support.
Bowel Mover is specifically designed to help promote digestive and detox support while executing its primary function of supporting proper bowel function. This product is beneficial for those that struggle with constipation by providing natural, gentle bowel relief.
The proprietary blend includes natural aloe leaf and rhubarb root, which promote water absorption in the stool; fennel seed, which eases cramping, bloating, and gas; wormwood and cascara sagrada bark, which signal the brain to produce stomach acid and engage intestinal processes, and barberry, which has been shown to combat diarrhea by fighting bacterial, viral, fungal, and parasitic infections.
Additional supporting ingredients include ginger root, which promotes indigestion relief and black walnut hulls, which have an innate ability to eradicate certain worms and parasites that reside in the intestinal tract. Garlic bulb assists in detoxifying heavy metals and senna leaf helps to ease symptoms of constipation. Cayenne has been shown to aid digestion and helps support digestive healing and overall health. Ginger root possesses antioxidant and anti-inflammatory properties, and clove bud has been shown to have antimicrobial properties.
The extracts of fulvic acid assist in mineral absorption, allowing the body to retain more of what is needed, specifically as normal digestion is established.
AS PART OF THE PROTOCOL:

Considering the drainage pathways as a funnel, establishing proper bowel motion is critical as the "pinch point" in the funnel. Bowel Mover ensures that the bowels function properly, making it happen in a non-habit-forming composition, allowing this to continue to be used as needed throughout the protocol.
> Support for proper bowel function and those suffering from ulcerative colitis
> Focuses on natural peristalsis, unlike traditional laxatives
INGREDIENTS:
BIOACTIVE CARON (EXTRACTS OF HUMIC AND FULVIC ACID)
> These products use long- and short-chain BioActive Carbon molecules, which have the ability to support life. These BioActive Carbon molecules are extracts of humic and fulvic acids and are designed to work systematically in the body. These molecules bind with toxins in the body and, in addition to chelating them, leverage their ability to support life by repairing as they chelate.
What is Carbon Technology? 
Our BioActive Carbon molecules undergo a three-step proprietary process in which other molecules are attached to enhance their overall efficacy and ability to support the body as it removes biotoxins. These processes ensure that the molecules and their beneficial elements get where they need to go in the body without dissipation or loss of efficacy on the journey.
In short, BioActive Carbon is included because it binds, restores directs and protects.
FENNEL SEEDS: According to herbalists, this herb serves an effective aid to digestion. Most commonly it's taken orally to help treat various digestive problems including intestinal gas, heartburn, bloating, and more
CLOVE BUD:  Clove bud is most commonly encountered as either a spice and secondarily as an essential oil with a wide range of use as a dental antiseptic, digestive aid, and infection fighter.
Clove helps to break up the shields of biofilm pathogens create to hide from your immune system. It also reduces inflammation and promotes wound healing. 
GARLIC BUD: Another popular culinary herb with overlooked benefits to a wide variety of systems and organs. Some of the top benefits of this herb include helping to treat high blood pressure, heart disease, hair loss, and infections
CAYENNE: Used in both Ayurvedic and Chinese medicine this ingredient has been used to help treat circulatory problems, increase appetite, pain relief, and congestion relief.
SENNA LEAF: This is another natural herb that supports overall digestive health but different than others, it is most commonly used in tea and is approved by the FDA to treat constipation. Because it contains sennosides it is also effective in helping with IBS.
WORMWOOD: Like many of the other medicinal and remedial herbs, this one also assists in treating digestive problems including things like intestinal spasms, upset stomach, and more.
BLACK WALNUT HULLS: Taken from the black walnut, this dry casing is used to treat a wide variety of infections including parasitic infections. In addition to it's anti-pathogenic and anti-parasitic properties, it also has history being used to facilitate bowel movement. These core benefits combined make it a key ingredient.
GINGER ROOT: A popular ingredient in cooking and native to the warmer climates of Asia, this root is one of oldest recognized as a natural remedy. It's most common uses can help with IBS, gas, motion sickness, upset stomach and more.
RHUBARD ROOT: The root of the rhubarb plant has a long history as a natural remedy and is primarily used in herbal medicine to promote balance in the digestive system. Some have also reported seeing benefits in reducing pain from hemorrhoids, anal fissures, and bowel movements.
BAREBERRY ROOT:  The Barberry bush is native to Europe. The root of this herb is commonly accepted for its medicinal uses. It provides support to the liver, colon, and other organs through the alkaloids that it contains.
ALOE LEAF: The leaf of the aloe plant has been used anciently by many societies and countries. It has an extremely wide range of uses and benefits. It can reduce constipation and provides digestive support. Research suggests that it helps with skin damage and radiation. Other uses include applying to wounds, canker sores, scrapes, and much more for healing and restorative impact.
CASCARA SAGRADA BARK: Cascara sagrada bark is commonly recognized as a natural laxative used by native Americans and other immigrants. It has chemicals that help activate the bowel and support the release of waste.
DOSING INSTRUCTIONS:
STANDARD >Take two capsules, twice daily or as otherwise directed by a healthcare practitioner.
SENSITIVE: > Reduce dosage to one capsule twice daily.
AGESSIVE > Take up to four capsules twice daily.
TODDLER > Under 50 lbs. Take one-half capsule daily. Open the capsule and mix half with a glass of water, juice, or in your favorite smoothie
CHILD > Between 50 - 125 lbs. Take one-half capsule twice daily.
FAQ's
1. CAN I OPEN THE CAPSULE OR SPLIT DOSAGE? 
There is no issue opening the capsule to take the product, we recommend mixing it with a smoothie or juice to help with the taste.
2. IS THIS PRODUCT ORGANIC?
All of our ingredients are organic. The capsules are vegetable-derived, but fall outside the purview of organic certification bodies.
3. CAN I TAKE BOWEL MOVER AS A ANTI-PARASITIC?
While this product contains clove, a common herb used for treating parasites, it is NOT intended to kill parasites. This product is designed to promote digestive and detox support.
4. DOES BOWEL MOVER CONTAIN ANY HABIT-FORMING INGREDIENTS? 
This product contains a variety of non-habit-forming ingredients. Cascara sagrada bark, one of these ingredients, has potential to be habit-forming as a whole. Bowel Mover contains a portion of this plan, and not the entire plant, which ensures it is non-habit-forming.
5. BOWEL MOVER IF CAUSING ME TO HAVE DIARRHEA WHAT SHOULD I DO?
If you experience diarrhea while taking Bowel Mover, simply reduce dosage until normal bowel function is restored (typically 2-3 non-watery stools daily).
6. DOES THIS PRODUCT CROSS THE BLOOD-BRAIN BARRIER?
Yes, all of our Binders are systemic and cross the blood-brain barrier! They are high-energy, nano-sized molecules with a multi-chain carbon structure which allows them to work throughout the body, including the brain.
7. CAN I TAKE THIS PRODUCT WITH OTHER SUPPLEMENTS/PRESCRIPTION MEDICATIONS?
Yes, make sure to keep all of our products 2 hours away from prescription medication to ensure no interactions between our products and the prescription.
8. DOES THIS PRODUCT CONTAIN GLUTEN AND OR ANIMAL BYPRODUCTS?
No, all of our products are gluten free and do not contain animal byproducts. Ingredients are listed above.