SIBO Glucose Breath Test Kit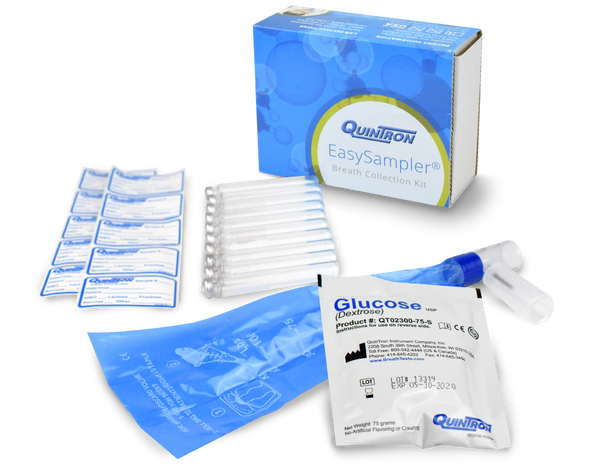 SIBO Glucose Breath Test Kit
Shipping within Canada does include a free return label
THE GLUCOSE BREATH TEST
*important* Click here to download all breath testing information and instruction.
It is important not to retest too soon after any sort of sibo treatment. Wait a minimum of 30 days before retesting >click here to find out why<
Click here for Glucose mixing instructions
All of our breath tests require no doctor or practitioner referral. 
US orders are for Glucose only and do not included shipping.

International orders; please contact us directly
WHY GLUCOSE TESTING?
Glucose is an additional substrate for bacteria. It is highly specific for the diagnosis of SIBO in the upper GI. It is considered a monosaccharide which is absorbed in the proximal small bowel, whereas lactulose is a non-digestible disaccharide that reaches the colon (which we prefer at SIBO Clinic Canada).
Due to its rapid absorption rate, glucose can sometimes miss the overgrowth of bacteria further along in the small intestine, especially the distal portion which is where SIBO is detected the most.  
Some doctors and practitioners will combine both the lactulose and glucose for diagnosing SIBO for a more accurate result.
WHO NEEDS SIBO TESTING?
Anyone suffering from symptoms of stomach distension, bloating, gas, diarrhea/constipation, indigestion and IBS can benefit from this testing. Consider this breath test the first step to understanding your condition and treatment options.
WHY SHOULD YOU GET TESTED?
SIBO can be debilitating. If you suffer from any of the above symptoms, chances are it is greatly affecting your daily life. Left unchecked, SIBO can lead to any of the following:
Alzheimer's, Parkinson's, Multiple Sclerosis, Acid reflux, Fibromyalgia, Chronic Fatigue Syndrome, Inflammatory diseases, Irritable Bowel Syndrome, Type 2 Diabetes, High Blood Pressure, Brain Fog, Autoimmune Disease, Leaky Gut, Acne, Restless Leg Syndrome, Weigh loss/Weight gain and many other conditions. 
HOW DOES THE SIBO BREATH TEST DETECT SIBO?
Dietary carbohydrates, unabsorbed in the small intestine, are fermented in the large intestine by bacteria resulting in the production of hydrogen and/or methane gases.
In patients with SIBO, bacterial fermentation of these carbohydrates occurs in the small intestine, producing gas which then gets absorbed into the bloodstream and exhaled in the breath.
HOW DO I PREPARE FOR THE SIBO BREATH TEST?
The lactulose breath test is a very simple, non-invasive breath test that you can do in the comfort of your home. You must follow a 24 or 48 hour preparation diet, depending on how severe your symptoms are prior to performing the test. 
The step-by-step guidelines will ensure proper results. If the preparation guidelines are not followed we cannot guarantee the accuracy of your test results.
If you are unsure about any of the preparation instructions, please do not hesitate to contact us at info@sibocliniccanada.com or call 506-381-9847.
WHAT DOES THE KIT INCLUDE?
Inside the testing kit you will find:
breath collection device
10 tubes
the substrate (Glucose or Lactulose)
detailed instructions 
labels for each tube
extra bubble wrap envelope for return to the testing facility 
return instructions 
Please read all instructions carefully before performing the test. 
Preparation:
Please allow 24 hours (48, if constipated) before you start the test. Follow the diet guide and consume only the foods listed. If you are vegan or vegetarian, you may consume small amounts of tofu or soaked lentils. 
Please keep in mind that:
SIBO CLINIC CANADA does not diagnose or treat SIBO, this is not a diagnoses. Any diagnoses or treatment should be made by your healthcare practitioner. The SIBO Breath test is a guideline only that is meant to aid your practitioner in their diagnosis, which is made in accordance with other clinical data that is unavailable to SIBO CLINIC CANADA. It is important to work with your healthcare provider to determine an appropriate treatment plan based on an individual's symptoms and test results. 
 HOW DO YOU PERFORM THE SIBO BREATH TEST? What this video.