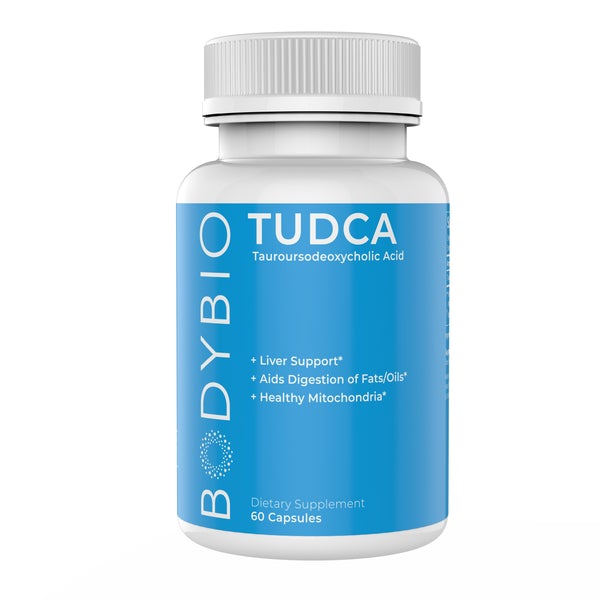 What is TUDCA?

TUDCA (or tauroursodeoxycholic acid) is a supporting bile acid integral to the digestion of fats/oils and detoxification of the gut and liver*. At the cellular level, TUDCA transports helpful molecules into the cell and helps to protect from cell degradation and apoptosis*. It also assists in clearing cellular debris from the mitochondria and cell membrane*. In the microbiome, it improves gut bacteria diversity. It has also been shown to support eye health*.


60 Capsules
TUDCA supports digestive ability by supporting healthy fat metabolism and breakdown as well as proper nutrient absorption. It is also supportive to cellular and mitochondrial health. 
However, the human body only produces small amounts of TUDCA (or tauroursodeoxycholic acid). In a healthy person, digestion re-circulates some 95% of the body's bile salts. But poor diet, decreased liver function, and certain medications can impair this process. This is where supplementation is key. 
Benefits:
Support the digestion of fats and oils*
Promotes a healthy microbiome with healthy biodiversity*
Supports a healthy inflammation response in the GI tract to help prevent leaky gut*
Helps reduce cellular stress & protect DNA*
May address fatty liver, biliary cirrhosis and hepatitis*
May be effective in supporting neurological concerns*
Assists in clearing toxins*
Stabilizes the cell membrane*
Works with other bile salts to prevent premature cell death (apoptosis)*
Eases stress on the endoplasmic reticulum (ER) to improve protein folding*
May provide neuroprotective benefits.*
May help regulate the immune system*
May affect genetic expression and mitochondria*
May dissolve gallstones before they are completely formed*
May cause liver and muscle to be more sensitive to insulin (high insulin sensitivity helps cells use blood glucose more effectively, which can help reduce blood sugar.)*
Why BodyBio Tudca?
Quality matters. We don't use fillers or additives. There is no way to achieve the powerful benefits of Tudca without strict internal and external quality control. The raw materials of BodyBio Tudca undergo extensive testing for the presence of mold prior to encapsulation. BodyBio's Tudca supplement is free of wheat, gluten, yeast, soy, dairy, artificial colors, and resins.

Specifically formulated to:
Support digestion*

Support the liver*
Neuroprotective support*
What's the recommended TUDCA dosage?
Recommended dosage is take 2 capsules per day or use as directed. 1750 mg is the tolerable upper limit for most and can be used as a therapeutic dose for as long as one month. TUDCA is suitable for those without a gallbladder. Use of 500 mg daily for one year in persons with liver transplants is not associated with any adverse effects. Persons with primary biliary cirrhosis have used 750 mg daily for eight weeks and 1,500 mg daily for six months with no adversity (Invernizzi, 1999).
When is the best time to take TUDCA?
If you're wondering about when to take TUDCA, we recommend one to three times daily with meals. It may be taken with or without food. We recommend taking it with food to support absorption. If your gallbladder has been removed, taking it with food may aid in digestion.
Does TUDCA have any side effects?
TUDCA supplements are generally considered safe when taken in the recommended amounts. Some have experienced diarrhea when taking more than 1500 mg daily, which is not recommended. There are no other reported TUDCA side effects. 
 
There are no reported adverse effects in persons using TUDCA because it is naturally produced in the body and plays a key role in protecting the liver.
What does Tudca taste like?
The TUDCA supplement is encapsulated and does not have a taste. 
How long does Tudca take to work?
Research shows TUDCA's benefits occur anywhere from one to six months of daily use.
Is this TUDCA sourced from bear or bull bile?
BodyBio's TUDCA is not derived from bear bile, bull bile, or the bile of other animals.

 *These statements have not been evaluated by the food & drug administration or Health Canada. This product is not intended to diagnose, treat, cure or prevent any diseases.*