Zenbiome Dual 60 caps (New, featured product)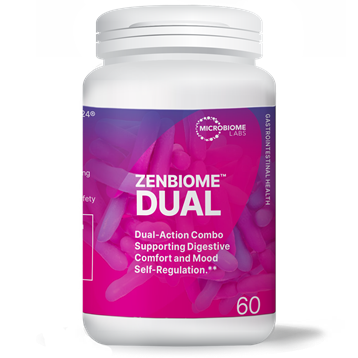 Zenbiome Dual 60 caps (New, featured product)
Zenbiome™ DUAL is a dual-action probiotic combination designed to support both digestive comfort and mood self-regulation. This unique, holistic solution targets the gut-brain axis and is clinically demonstrated to support the relief of occasional gastrointestinal (GI) discomfort and its associated psychological stress. Powered by two innovative probiotic strains, ZenbiomeTM DUAL provides around-the-clock digestive maintenance, supporting optimal gut health and overall well-being.*
- Supports digestive comfort*
- May relieve occasional episodes of abdominal discomfort, gas, bloating, diarrhea, and/or constipation*
- Supports the gut-brain axis*
- Maintains normal, regular digestive processes*
- Supports mood self-regulation*
- Help address and overcome occasional stress*
- Maintains cortisol levels already within a normal range*
- Maintains energy, vitality, and mental acuity*
- Supports balanced sleep*
- Provides health-supportive bacteria for the GI tract*
Directions:
Take 2 capsules daily with a meal, or as directed by your healthcare practitioner.
If you are pregnant or nursing, taking any medication, or have a medical condition, consult your doctor before using this product. Keep out of reach of children. Do not use if safety seal is broken or missing.
Supplement facts:
Proprietary Probiotic Blend 10 Billion CFU
97.5 mg
Bifidobacterium longum 1714™
Bifidobacterium longum 35624®
HPMC capsule, cellulose, magnesium stearate
Soy Free
Corn Free
Lactose Free
Non-GMO
These statements have not been evaluated by the Food and Drug Administration. These products are not intended to diagnose, treat, cure or prevent any disease.