Calcium / Magnesium Butyrate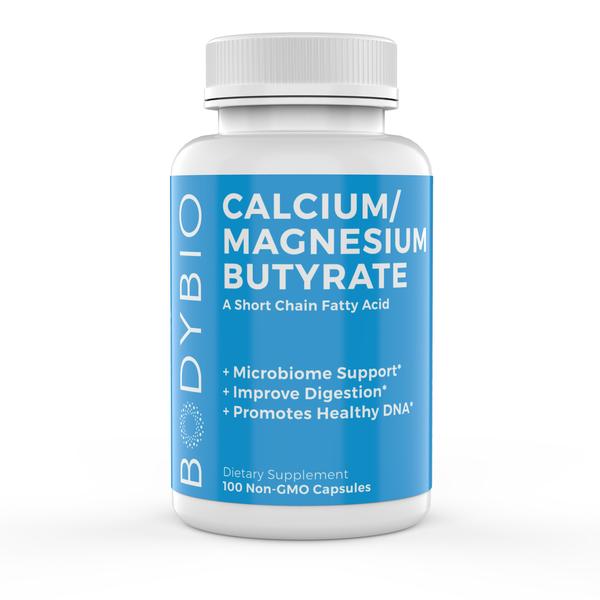 Calcium / Magnesium Butyrate
About this product
Not only is Butyrate critical in repairing the lining of the gut and the health of cells within it—it also supports healthy inflammation response to protect the body from disease while improving immune function*.

Butyrate is a short-chain fatty acid that promotes a healthy microbiome, improves gut function, supports a healthy inflammation response, and improves cell health on the genetic level by protecting DNA*.

Butyrate repairs the damage that pesticides, toxins, processed foods, drugs, etc has done to the lining of the gut. Butyrate helps to heal the gut lining and promotes healthy DNA to support genetic function against damage, which may lead to disease*.
Why BodyBio Butyrate?
Quality matters! We don't use fillers or additives. There is no way to achieve the powerful benefits of butyrate without its distinctive, fermented scent. This means it's premium quality and ready to work. All natural ingredients and free of wheat, gluten, yeast, corn, soy, dairy, artificial colors, and resins.
Specially formulated to:
Support gut health*

Promote detoxification*

Maintain proper pH level

s in the colon*

Reduce inflammation*

Promote healthy DNA function*

Support healthy blood sugar regulation*

Butyrate serves to close tight junctions and prevent the dysbiosis commonly known as leaky gut*
Suggested Use
1-2 capsules with food, unless otherwise suggested by your Healthcare Professional.
FAQ's
Is it supposed to smell?
Yes, and we do not use any additives or fillers to mask the scent. Butyrate is quite infamous for its scent because it is a molecule naturally produced by the body to feed colon cells. We create butyrate exactly as it's formed in the colon - through the bacterial fermentation of resistant starch. In its organic state, butyric acid is surrounded by the body's unwanted debris. So, naturally, it doesn't smell good. Substances sometimes added to butyrate in order to control its aroma interfere with butyrate's character. Butyrate need only speak for itself as the analeptic substance it is
Is it similar to a probiotic?

No, Butyrate is not bacteria but a short chain fatty acid (SCFA) made in the lower colon by bacteria and taken up by the colonocytes, the cells that line the colon. It then becomes an important food for those cells. Lacking good bacteria in our colon, such as when we take antibiotics, can lead to an insufficient supply of butyrate.
Are there any side effects from taking Butyrate?

No, but you may be more "regular" - not exactly a bad thing!
Can I get Butyrate from my food?
It is unlikely that you get enough butyrate from your food sources to be physiologically beneficial, making butyrate supplementation a prudent habit. Butyrate can be found in resistant starch, which normally comes from the skins of legumes, or under ripe bananas - not foods that are commonly consumed.
Microbiome Support               Improves Digestion             Promotes Regularity   
We dropship this product directly from the manufacturer, custom fees may apply.
*These statements have not been evaluated by the food & drug administration or Health Canada. This product is not intended to diagnose, treat, cure or prevent any diseases.*