SIBO Lactulose Breath Test Kit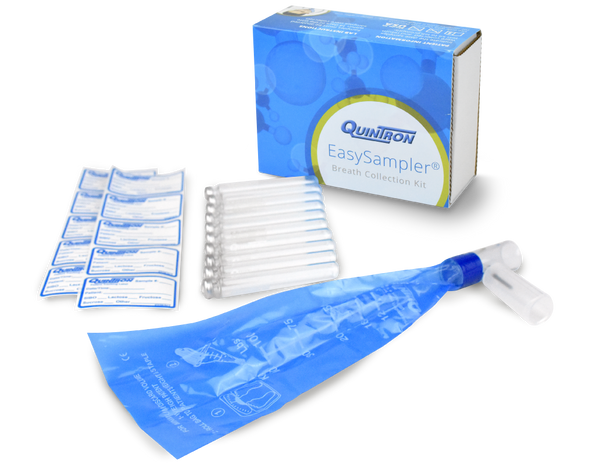 SIBO Lactulose Breath Test Kit
*Important* Click here to download all instructions on the SIBO Breath test! 
It is important not to retest too soon after antibiotic treatment or any sibo treatment for that matter. Wait a minimum of 30 days before retesting, >Click here to find out why<
Veuillez cliquer ici pour les formulaires de test d'haleine française

This breath test is the primary method of SIBO testing for SIBO CLINIC CANADA. 
No Doctor or Practitioner referrals required. Anyone is free to order the SIBO Breath test from SIBO Clinic Canada. 
Shipping policy:
Free shipping is offered at checkout within Canada only
All shipping options do include a return label back to our facility. 
USA > Shipping cost is expensive. However, it does include a return label
International orders > please contact us directly if outside of Canada and US
WHY LACTULOSE TESTING?
Lactulose, unlike glucose, is not absorbed in your system. It is a sugar not digested by the body, meaning that it is able to travel all the way through the small intestine without modification in normal physiology. The lactulose breath test thus allows detection of abnormally increased numbers of bacteria located in the distal small intestine. It acts as a food source for bacteria, if present in the small intestine. If bacteria are present, lactulose will allow the bacteria to ferment, producing hydrogen (H2) and/or methane (CH4). These gases are diffused into the bloodstream and exhaled by the breath.  
With lactulose testing, breath samples are collected every 20 minutes over the course of 3 hours.
SIBO CLINIC CANADA uses the gold standard Quintron BreathTracker for analyzing the breath samples that are returned to our facility.  We use extensive quality control, which includes carbon dioxide measurements, to ensure an acceptable air sample.  We comply with the highest standards of excellence.
WHO NEEDS SIBO TESTING?
Anyone suffering from symptoms of stomach distension, bloating, gas, diarrhea/constipation, indigestion and IBS can benefit from this testing. Consider this breath test the first step to understanding your condition and treatment options.
WHY SHOULD YOU GET TESTED?
SIBO can be debilitating. If you suffer from any of the above symptoms, chances are it is greatly affecting your daily life. Left unchecked, SIBO can lead to any of the following:
Alzheimer's, Parkinson's, Multiple Sclerosis, Acid reflux, Fibromyalgia, Chronic Fatigue Syndrome, Inflammatory diseases, Irritable Bowel Syndrome, Type 2 Diabetes, High Blood Pressure, Brain Fog, Autoimmune Disease, Leaky Gut, Acne, Restless Leg Syndrome, Weigh loss/Weight gain and many other conditions. 
HOW DOES THE SIBO BREATH TEST DETECT SIBO?
Dietary carbohydrates, unabsorbed in the small intestine, are fermented in the large intestine by bacteria, resulting in the production of hydrogen and/or methane gases.
In patients with SIBO, bacterial fermentation of these carbohydrates occurs in the small intestine, producing gas which then gets absorbed into the bloodstream and exhaled in the breath.
HOW DO I PREPARE FOR THE SIBO BREATH TEST?
The lactulose breath test is a very simple, non-invasive breath test that you can do in the comfort of your home. You must follow a 24 or 48 hour preparation diet, depending on how severe your symptoms are prior to performing the test.
The step-by-step guidelines will ensure proper results. If the preparation guidelines are not followed, we cannot guarantee the accuracy of your test results.
Take the following actions as preparation steps to improve breath test accuracy:
Two weeks before the test: finish any antimicrobials (drugs, botanicals, or nutrients), is not having any atypical diarrhea, and will not receive a colonoscopy or barium enema before the test.
Four days before the test: avoid all laxatives, high-dose vitamin C, and magnesium supplements.
One to two days before the test: avoid all high-fiber and lactose-containing foods, condiments, spices, and herbs. Follow the. Consume only meat, fish, plain steamed jasmine rice, eggs, and clear meat broth. Limit fat and oils, salt and pepper, and weak black coffee and tea. Stop all non-essential medication.
12 hours before the test: fast and wake at least one hour prior to the test. PLEASE avoid smoking and vigorous exercise.
Brush teeth and try to rinse with an antiseptic. The antiseptic will ensure that oral bacteria is gone as to not have a higher than normal baseline value.
If you are unsure about any of the preparation instructions, please do not hesitate to contact us at info@sibocliniccanada.com or call 506-381-9847.
Inside the testing kit you will find:
breath collection device
10 tubes
the substrate (Lactulose) Mix in 6 or 8 oz of water
intake form (please fill out and sign)
labels for each tube
extra bubble wrap envelope for return to the testing facility 
return instructions 
Please read all instructions carefully before performing the test. 
Please allow 24 hours (48, if constipated) before you start the test. Follow the diet guide and consume only the foods listed. If you are vegan or vegetarian, you may consume small amounts of tofu or soaked lentils. 
Please keep in mind that:
SIBO CLINIC CANADA does not diagnose or treat SIBO, this is not a diagnoses. Any diagnoses or treatment should be made by your healthcare practitioner. The SIBO Breath test is a guideline only that is meant to aid your practitioner in their diagnosis, which is made in accordance with other clinical data that is unavailable to SIBO CLINIC CANADA. It is important to work with your healthcare provider to determine an appropriate treatment plan based on an individual's symptoms and test results.  
Watch the video on how to perform the breath test.